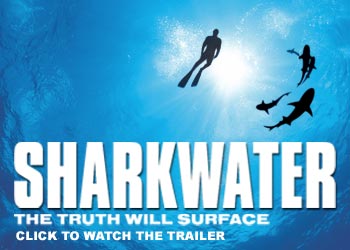 Driving through Deerfield when I first arrived, we passed one of the little Mom and Pop motels a few blocks from the house. Parked in the back was this huge car trailer with the above logo on it - reading Sharkwater coming Fall 2007 - Visit sharkwater.com! Of course, due to Z-man's interest and studies of sharks, we went to the website.
What a TREAT! We went to see the movie on Sunday and it was really impressive.
My favorite part? That the kids have a hero in Rob Stewart (the biologist and creator of the movie)!
SO - the movie was amazing and they are opening outside of Florida starting in a few weeks and I really hope everybody goes to see it and support a great film with a great message that has not been Hollywooded!
On our way to the library on Sunday after the movie, we drove past the hotel and saw some of the crew. We stopped and talked to Tyler McLeod who was in the movie - he immediately engaged with the boys and signed posters for them! Impressive again!
It is opening in the UK in the New Year and they are leaving Deerfield this week to start cross country promotion!